Inventory Clearance Sale
Sale Prices on ready made, ready to ship covers and accessories.
Closeout prices! !
The quantities are limited, so order now!
Shipping not included, combine shipping for extra savings!
To receive a Price Quote, including shipping costs, go to our specials contact form and order by number.
---
Steel Guitar Covers
Steel Guitar Covers
Forrest Green
Cover measurements
6 3⁄4" x 32 1⁄4" x 5 1⁄4"
$34.99 Now $29.99
#1
Brown / with cord opening
Cover measurements
12 1⁄2" x 33 1⁄2" x 5 1⁄2"
$47.98 Now $39.98
#2
---
AMP COVERS
Peavy Nashville 400 Cover/ Red endcap /black center/ white piping
was $110.00 Now $89.99
#7

---
EndCap Covers
D10 Pearlized gold/
Tan endcaps /white piping
Cover measurements
33½" x 11" x 5"
$59.99 Now $55.99
#3
---
#4
S10 Endcap Cover
Red endcap/ black center/ white piping Cover measurements 32 " x 7¼" x 5¼"
$59.99 Now $49.99

---
Amp Cover/ Maroon/ white piping & handle detail/
measures 28" wide x 9 ½" deep x
18" tall
(handle opening centered) $49.99
#8
Star EndCap Covers
#5 SOLD
Red/ Blue endcaps /
white piping/ white star
Cover measurements D10
33" x 11" x 5 ½"
$79.99 Now $59.99
#6
Cowboys Cover
Cover measurements D10
33½" x 11½" x 5 ½"
$79.99 Now $59.99
---
Leann: Guitar Cover arrived faster than expected. It was exactly what I hoped for and very good quality. Here is a photo. Peter
---
Please add 'info at sharpcoversnashville dot com' and 'sales at sharpcoversnashville dot com' to your address book or contacts so our emails don't end up in your spam folder.
---
---
Due to circumstances beyond our control, we have relocated to another state. We are in the process of purchasing a home with larger facilities to continue our business. We will resume at that time providing quality covers to our many loyal customers. Our suppliers have also reassured they will be stocked and ready to resume shipping at that time. We were dealing with so many shutdowns during this pandemic. Please check back with us in about 1 - 2 months and we will begin giving price quotes and fulfilling all order requests. We will also make a announcement on our website when we are ready for new orders. Thank you for your patience! Leann Sharp
---
Your new Sharp Steel Guitar Cover
will protect all your valuable equipment from dust, dings & scratches.
Covers available for amps, steel guitars & keyboards.

Specialty Steel Guitar and Amp Covers
Your resource for exclusive, custom made, one of a kind, retro and vintage covers.

We add the extra details, like cording on amp covers, that will set your cover apart as custom made.
We guarantee our covers for fit and workmanship.

Visit our Accessories Page
We have Leg & Rod bags, Caps and Pick and Bar pouches.
Order Now
We accept cash, personal checks, money orders and PayPal.

Questions?
See our FAQ or send us an email info@sharpcoversnashville.com

Pay with PayPal (PayPal acccount not required) or with personal checks or money orders.

Proudly handcrafted in the USA.
Wow! Love 'em! Robby Turner
The Pro's Use Sharp Steel Guitar and Amp Covers
Mike Johnson
My Sharp Cover reminds me of the older amp covers. Back when they made them durable enough to actually protect the amp. These are beautiful and made with that same "Old Fashion Quality". I'm impressed. Mike Johnson, 7/18/11

---
Robyn Young
From Facebook: "My New Custom Made Amp Cover. By Leann Sharp of Sharp Covers. So pretty, I had to show it twice. GO VOLS ! I may have to get my Telecaster painted Orange to match it!
---
Bob Hempker
Leaan, I got the cover 2 or 3 days ago. That is a great cover. I'm taking better care of my amp, now. Thanks so much for the business cards and holder. I will be glad to refer anyone to you. Your work is great. Thanks again, and give my best to Cal. Bob
Tommy White
Leann, Received my beautiful cover this afternoon. Absolutely perfect! The right color, fits like a glove and the initials look great too! Really really nice. Thank you so much! I will get pics to you soon. This week I'm covered up(pun) with the CMA germ fest gigs, Opry and whatnot. I would also be glad to post on the steel guitar forum if you wish. Again, my sincerest thanks and best, Tommy
---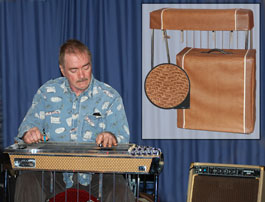 Russ Hicks
"I got these covers and they are just gorgeous! Pardon the pun........they are just too Sharp!! I will be displaying them in my booth in Dallas, on my steel and amp. They are just gorgeous!"
---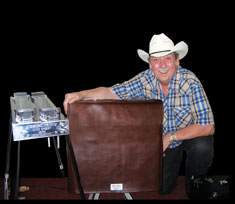 Lynn Owsley
"Thanks so much for the Sharp Amp Cover, the color is perfect,the fabric is heavy duty, the fit is exact, and will protect my favorite amp from the dings and knocks that I dish out daily. I also noticed the heavy duty stitching, the careful cutting and the workmanship in general, it tells me that you take pride in your covers and for that I'm also grateful." "I will take this cover around the world, starting here in Nashville. I'm already receiving compliments on a good looking amp cover when I arrive on a gig! I am telling others about your covers and saying"You can get all of this and at an affordable price. Just call Leanne and get a Sharp Amp Cover"

Little Walter Amp Cover 
Gary Capps 
Hi Leann, I received the Little Walter amp and cabinet covers last week. They are beautiful and fit perfectly. The covers look so nice I might leave the amp and cabinet set up in the living room. Thanks a lot for getting this to happen, Gary
---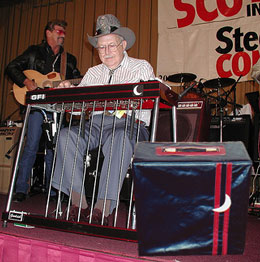 Ralph Mooney
"Love this cover! Leann made me a custom amp cover matching the color and design on my GFI. Included my 'Moon logo'. Great covers, I highly recommend them to y'all."
---
Thanks to Sharp Covers Nashville, I have the coolest custom amp cover ever!! What a great job!! Thanks Leann!!
Bob Manning
---
Home
|
Steel Covers
|
Amp Covers
|
Accessories
|
Contact
|
FAQ
|
Links
Please Note: We will not give refunds on the basis of color.
Due to the limitations of desktop scanners, digital cameras, and the relative inconsistencies of various display monitors, the colors and other characteristics you see on your screen may not be a totally accurate reproduction of the actual product.  We strive to make our colors and other characteristics as accurate as possible, but screen images are intended as a guide only and should not be regarded as absolute replication of the product color and other characteristics. If you are matching the color of your equipment, etc., Please order a sample of the vinyl in the color you desire. A small sample is available for $1.00. Please email for ordering instructions.
© Copyright Sharp Covers Nashville™ 2023